Architectural coatings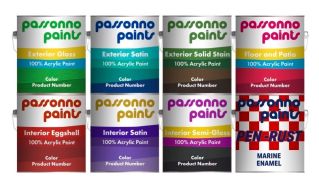 Passonno Paints has been providing customers with coatings to protect and beautify their property for almost 100 years. Our proprietary line of 100% acrylic exterior coatings are formulated to withstand the harsh winters of the northeast, and our 100% acrylic interior coatings are designed to be washable, scuff resistant, long-lasting, and beautiful. We are also the capital region's largest Premiere Authorized Dealer of PPG products and carry a full selection of PPG interior and exterior paints.
With thousands of colors and a multitude of gloss options, we know the paint selection process for your indoor or outdoor project can be confusing. Remove the guesswork and be sure your project comes out right the first time by speaking with one of our experts. Choose from the colors we have in stock or bring a swatch of the color you would like and we can match it.
In addition to providing customers with the products they need to get their job done correctly, Passonno Paints has a decorator on staff who can provide color consultation and design advice to transform your living space into a sanctuary.
If you're a painting contractor, Passonno Paints carries the paint, tools, and supplies you require. Please contact one of our institutional sales specialists to receive a quote for your next job.